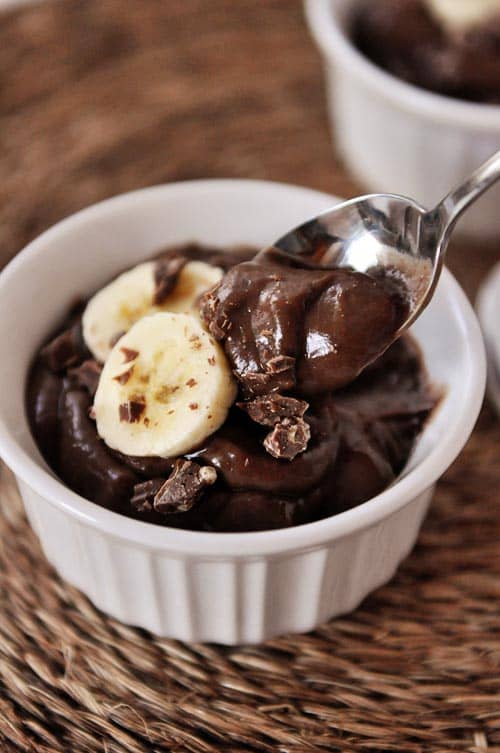 This is not my recipe, but since I have made it twice in the past week I figured I better share it with you all....I couldn't resist the urge :)
Absolutely delish! My kids can't get enough. (me either!)
Incredible Chocolate Pudding
Makes 5 (1/2 cup each) servings
2 Tbsp cocoa powder, Dutch-process or natural, unsweetened
2 cups dark chocolate almond milk
1/3 cup creamy peanut butter (see note)
sliced bananas for serving, optional
In a medium saucepan, whisk together the sugar, cocoa powder and cornstarch. Slowly pour in the almond milk and whisk to combine.
Cook over medium heat, whisking constantly until the pudding begins to bubble. Cook two minutes longer (while it boils and bubbles). The mixture will be thick but pourable and will set up more while it chills.
Take the saucepan off the heat and whisk in the peanut butter and vanilla.
Pour the pudding into a bowl and cover with plastic wrap, pressing directly to the surface to avoid a skin forming. Refrigerate until well-chilled, 3-4 hours.
Serve with sliced bananas (optional).
"
The pudding is already egg-, dairy- and gluten-free. For my peanut-free friends, try subbing in soy butter or sun butter for the peanut butter. As noted above in the post, I couldn't resist trying a non-peanut butter version today (2/22/14) since many of you asked about it. Here's the result: the cooked and chilled pudding without the peanut butter was really good! It was definitely missing that element of creaminess the peanut butter gives, but honestly, I loved it. It wasn't quite as thick as the peanut butter version so I would suggest upping the cornstarch to 2 1/2 or 3 tablespoons if you are leaving out the peanut butter. Remember to let it boil and bubble (stirring constantly!) for a good 2-3 minutes to help it get as thick as possible. It will still be slightly runny when pouring into a bowl but will thicken up considerably upon chilling."